SCALA is leading the way on Demand Driven Supply Chains after flying in global thought leader Carol Ptak for a seminar in London. 
The US co-founder of the Demand Driven Institute was the star speaker at SCALA's first ever Directors' Briefing event.
Industry executives were told to stop using forecasts to drive their operations and to change their supply chains to "pull systems" at the briefing, which was held at the London headquarters of the Institute of Directors.
"Forecast-driven replenishment leads to inventory oscillating between two points, too much or too little," she explained. "The effect we see is persistent, unacceptable inventory combined with low service levels.
Carol added: "We need to look at supply chains as complex adaptive systems and to improve operational and financial performance we need to position and pull, not push and promote."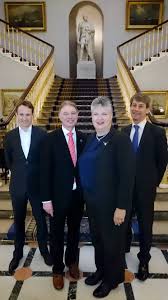 Mrs Ptak also issued a strong call for supply chain leaders to stop their obsession with cost minimisation and to focus on their true role of generating higher returns on investment for the business.
"The chief goal of any business is to deliver a higher return on capital employed, and not to minimise costs," she said. "We need to increase the flow of materials and products if we wish to generate more sales and more cash for the business."
The directors' briefing was held in partnership with replenishment management software provider Orchestr8 and featured case studies of successful implementations of demand driven supply chain planning.
SCALA managing director John Perry commented: "Supply chain leaders experience at first hand the problems that arise when forecasts are used to drive operations, but I have still been amazed at the depth of interest in the Demand Driven approach. We are very proud that we have been able to bring Carol, a world class thought leader in supply chain planning, to a very receptive British audience."
Please contact SCALA on 01484 437486 if you would like to know more about implementing the Demand Driven approach in your business.