This year's debate was opened by SCALA Executive Director Dave Howorth with Keith Newton also of the CILT International chairing the debate discussion.
Edward Osborne, from Waitrose, discussed the increasing demands being placed on internal supply chains and distribution networks. Black Friday produced a 5 units per second demand on the process! Connecting with customers and managing their expectations was key in order to maximize the competitive and cost advantage of drop-shipping.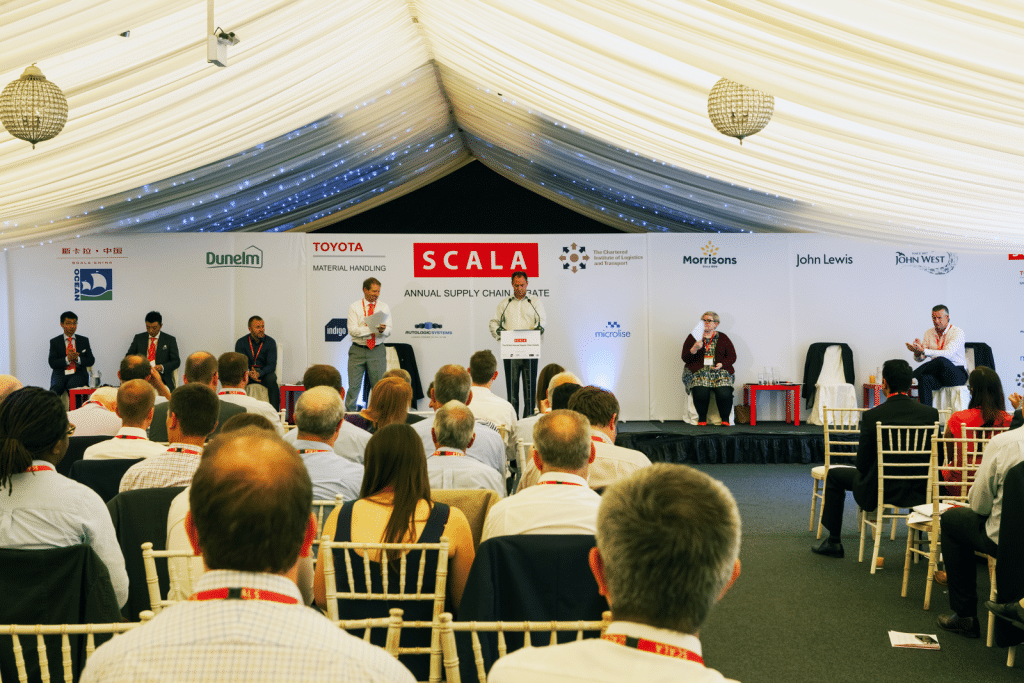 "There are two factors that matter most to the supplier; when it's ordered, and when it's delivered". He posed the question to the audience of "We have all of the technology that we need, but do we have the people to manage it?"
John Tomlinson said  John West had 'Looked deep into the silence of low customer feedback'. Amazon's online fulfilment capability vs. the major grocery retailers was an example of the inherent competitive advantage that supply chain maintains. He explained, a value-streaming process for operations and the importance of communication with internal and external customers with the correct use of data. A focus on collaboration added value to trading relationships. The consumer matters the most, and is the crucial factor within a company's supply chain.
Dunelm Mill's Simon Parnaby examined cross-docking and central distribution, and remarked on the preference of managing store distribution. Simon delivered a comprehensive breakdown of successful warehousing approaches and how retailers can contribute towards delivering a competitive advantage within their supply chain through the utilisation of new distribution approaches. 'Send as required' with less central storage of goods has contributed highly to the success of Dunelm Mills' ability to have what the customer required in stock.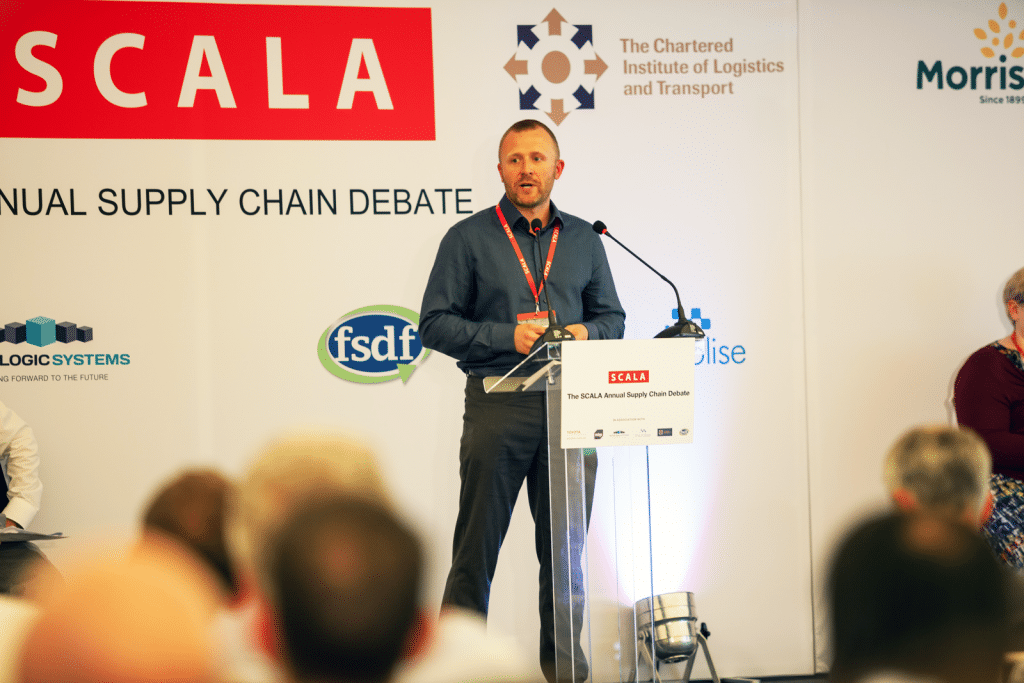 Emma Ross of WM Morrison, a member of the UK CILT Board, recently took on the role of UK Young Professionals Chair. "Logistics is the new retail" was her refreshing take on retail approaches and recent developments in delivery. Emma asked the audience whether their businesses passed her "7 habits" test, all of which reflect John Perry's initial questions;
Holistic Leadership – Are all  leaders talking to each other
Right people – does everyone have the skill and motivation for what they do?
Is the system design led?
Aligned goals – does everyone share the ultimate goal?
Plan – How effective is the plan that is currently in place
Measurement – how effective is the measurement. How effectively is data used?
Customer – The ultimate test of effectiveness is customer behaviour and sales
She contested that whilst instant gratification is a strong contender for same-day delivery, and same-day delivery is becoming an increasing regularity, people still use retail for the tactile experience of interacting with goods. The high street may not vanish from our towns and cities just yet.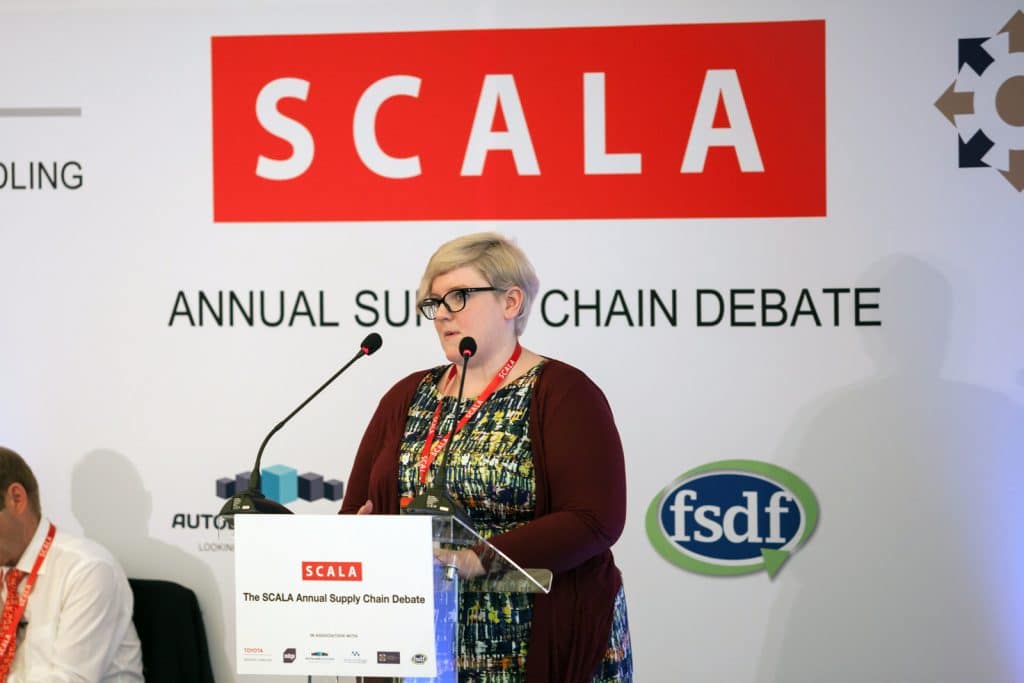 Tiger Wang, chairman of SCALA China, spoke at the Debate last year about collaboration and the impact of Brexit and this time discussed the fierce global competition in the automotive industry. There was pressure on the costs for Chinese enterprises, although the mood in China is one of optimism now that the companies have realized the importance of the supply chain as a competitive advantage. 'Cheap China' has gone as labour costs rise. Intelligent manufacturing should be the response to taking costs down.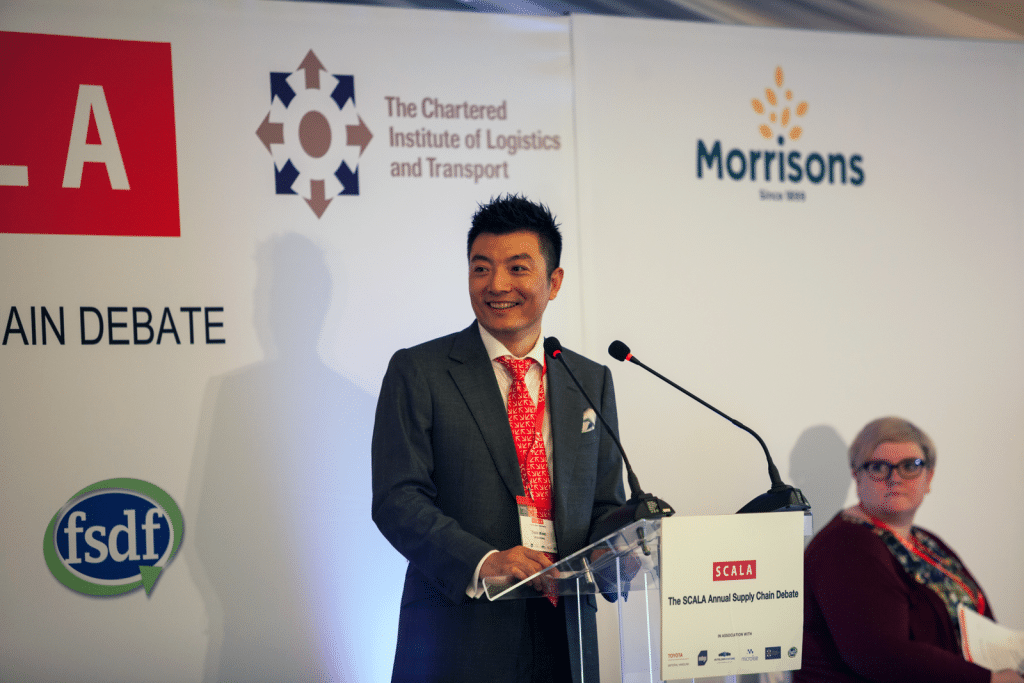 They are "putting a lot of effort into improving it in order to continually enhance the competitiveness of enterprises". Taobao,  Alibaba's B2C ecommerce platform, invested heavily in supply chain and delivery across China and enjoys huge success, with a daily trading volume of £316m. However, it has recently been overtaken by Jingdong mall, another Chinese delivery company that is currently having to work very hard and invest extensively to catch up and compete on sales volume. This has happened due to a number of reasons, but foremost is the great importance the company has given to the early development in supply chain management designing, planning, and constructing national logistics centres; the logistics efficiency of the e-commerce platform, according to Tiger, is vastly superior to that of Taobao, and Jingdong mall has now become the only mall in China that can compete with the company. having reached its own daily trading volume of £236m, which is expected to surpass Taobao soon. 
The speakers fielded a wide range of questions but the conclusions from the Debate was clear – in order for businesses to operate at the most efficient level possible, it is crucial that they regard their supply chain as a distinct competitive advantage as opposed to simply a support function.
Our 14th Annual Supply Chain Debate is now over, and from all of us at SCALA we'd like to say thank you for helping to make it a success. It was enjoyed by one of senior supply chain professionals with an informative and thought-provoking discussion, and we were delighted to be supported again by headline partners, Toyota Material Handling and the CILT together with sponsors Indigo WMS, Microlise, Autologic, and the FSDF. See you next year.