SCALA's recent Supply Chain Best Practice Forum on the 19 January was a resounding success, delivering an enlightening, informative, and entertaining day centred around industry standards and commercial approaches within the grocery and FMCG industries. The event took place in the Manchester Marriott hotel and hosted representatives from some of the largest companies in the international food and drink sector, such as Kraft Heinz, Fox's Biscuits, TATA Global Beverages, PepsiCo, and many more, with McBride and Maxxium joining the Forum for their first meetings.
After arrival and short networking session, the Forum headed to the nearby ASDA Automated Distribution Centre in Warrington, (travelling in style in an Ellisons VIP Starliner!) where we were met by Dean Jackson and Chris Hall (Head of PMO and Senior Director of Central Logistics respectively). Dean and Chris delivered an insightful and engaging presentation concerning the current challenges affecting the Warrington ADC, addressing issues such as competition with the larger supermarkets (Tesco, J Sainsburys), pointing out pressing matters such as systematic approaches towards customer demand and increased delivery times. Dean and Chris finished up their presentation with a Q&A, during which our forum members were able to raise concerns and comparisons of their own, granting some key insights into how ASDA conduct their supply chain strategies in contrast to other UK retailers.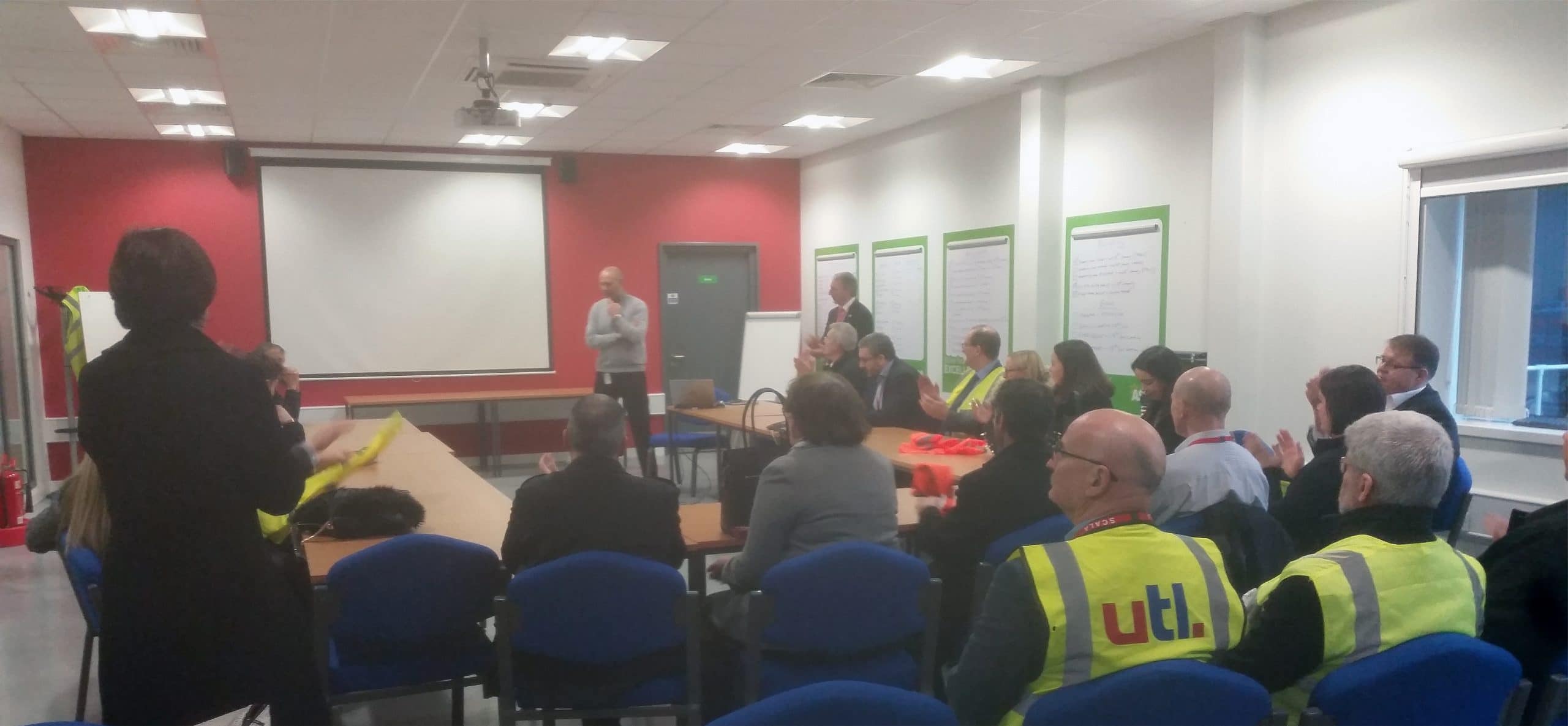 We then donned our high-vis jackets and headed inside the warehouse itself, which was truly a sight to behold due to the vast amount of automation and mechanisation that had been utilised to increase workflow. Our tour guide explained the inner machinations of the warehouse and how the system was designed for as quick a turnaround as possible – the expanse of ASDA's operations in Warrington were on a colossal scale; the workings of layer picking machinery, conveyor systems, and pallet wrapping were extremely impressive to see in action, and the Forum group appreciated the opportunity, especially when compounded with helpful answers and explanations along the way concerning ASDA's approach to the operation.

Upon returning to the Marriott, the Best Practice Forum launched into recent market updates and developments (including transport to Ireland, one of the hot topics of the day). Animated discussion stemmed from each and every company representative and numerous important points concerning industry best practices were deliberated in depth, providing an informative and enlightening atmosphere for the attendees. Following the market updates came our analysis of SCALA's recent Cost to Serve survey that the Forum participated in, which examined aspects such as the regularity of evaluations, customer profiles, customer product portfolios, and more. The Forum deconstructed these anonymised results and further contributed their own company's approach to supply chain cost-to-serve, coupled with some insightful presentations concerning CTS updates from PepsiCo and Kimberly-Clark. SCALA's MD John Perry concluded proceedings with some key insights into the industry and what each company can do in order to better cooperate with customers, and the Best Practice Forum left the Marriott with newfound insights and awareness of the wide range of progress on cost to serve – a topic which is going to be progressed in more detail in the next meetings.