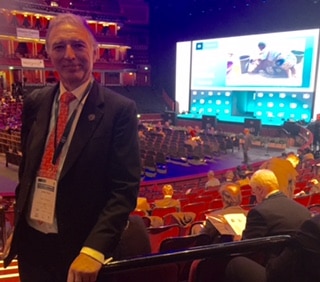 John Perry attended the Institute of Directors Annual Conference at the Royal Albert Hall which had a theme of Thriving in a Changing World and an impressive programme of national, international, and global speakers.  Sessions included life after Brexit, Leadership, Future Energy, and Nurturing Innovation.
A brilliant session by Dr Dambisa Moyo named by Time magazine as 'One of the 100 Most Influential People in the World' set the scene within which the Global economy operates on the major strategic business issues and global risks facing Directors and Businesses.
John particularly likes the contributions on Brexit from Yanis Varoufakis who identified the need to continue engagement in some form with Europe, whose institutions were not perfect but were essential to development in the UK.
Nicola Sturgeon's view was "Don't accept the inevitability of a hard Brexit" and she provided a forceful account of the work of the current government in Scotland with the strong emphasis on support for business and education.  The need for full engagement within Europe and a focus on the international markets were also vital to development in Scotland and being an entrepreneurial nation.
Of real interest for John was the E-Comm business revolution with sessions from Steve Hatch from Facebook, Olivier Gremillion from Airbnb, and Amee Chande of Alibaba who are the biggest retailers on the planet and seeking to expand into new territories.  Amee Chande is now the UK MD opening up new opportunities for British Business in the Far East.
Martha Lane Fox identified the need to place the internet at the heart of all development both within business and the community. A UK perspective would be useful to balance the use of technology away from a centre in Silicone Valley.  Other sessions included a timely reminder to all companies to take control of their own cyber security from Rob Cotton of the NCC.
Dame Kelly Holmes was, as she was in the sports field, genuine and passionate.  She introduced the work of the Dame Kelly Holmes Trust which utilises the skills of former athletes in support of disadvantaged people.  Her final advice was to be 'your own person'…at which she removed her dress shoes and replaced them with trainers!
John found the range and scope of the discussion both inspiring and challenging.  SCALA Consulting seeks to grow and develop and a day which provides this level of intellectual energy makes a huge contribution to how we work with our clients.
For further information, please see www.iod.com