SUPPLY CHAIN INDUSTRY IN AGREEMENT THAT 3PLS CAN BE DELIVERING MORE FOR THEIR CUSTOMERS
Almost nine in 10 industry professionals believe that 3PLs could be delivering more for their customers, according to research taken before the 16th SCALA Annual Supply Chain Debate.
Over 150 professionals attended Coombe Abbey in Warwickshire on 27 th June to hear from esteemed speakers including Chris Marrow, director of logistics at Sainsburys, Jim Gallagher, supply chain director at BOSCH Home Appliances; Peter Broome, supply chain director for UK and Ireland at Ferrero; Simon Hobbs, director at Kuehne + Nagel Ltd, and Rebecca Attoe-Butt, head of supply chain at Dyson.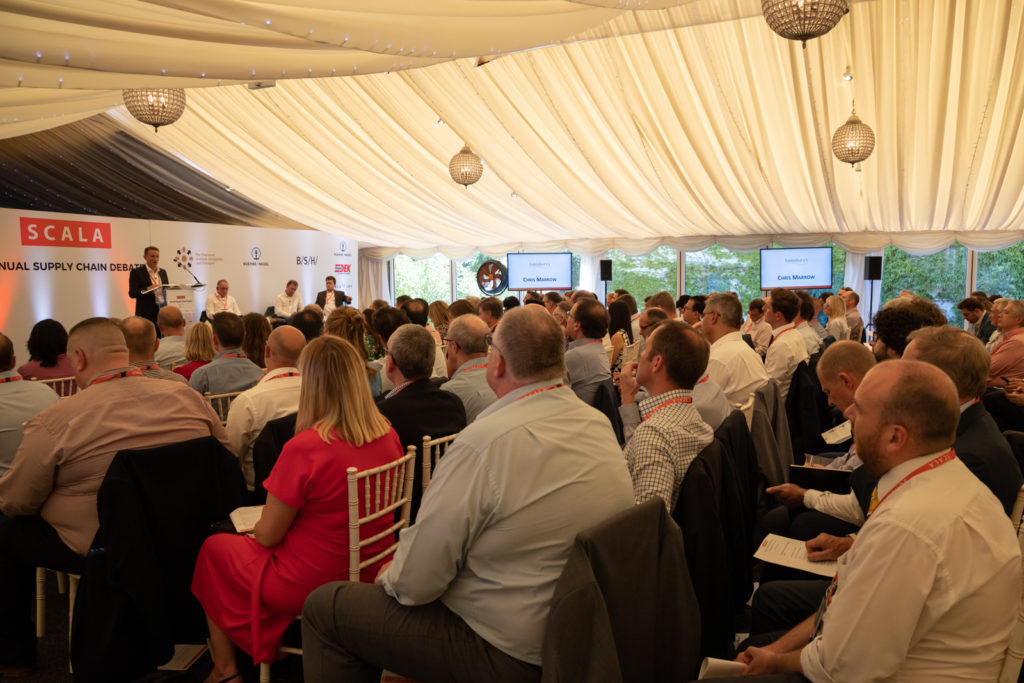 Strong relationships and collaboration between the customer and the 3PL were identified as key to solving the 3PL innovation battle. Chris Marrow from Sainsbury's reasoned that companies should choose 3PLs that are aligned to their values and are a strong cultural fit, while Rebecca from Dyson said that issues can arise if companies only think of their 3PL as
a purely transactional relationship; high service levels need to be ensured on both sides to get the best out of the contract.
A number of issues preventing 3PLs from offering more to their customers were also identified at the event, with Jim Gallagher stating that procurement strategies do not always allow 3PLs to be flexible and many tenders are too prescriptive. Peter Broome from Ferrero highlighted his belief that the customer can also prevent 3PLs from being innovative by
putting up constraints or not giving clear direction.
Simon Hobbs agreed that 3PLs can deliver more but the conditions need to be right, for example, having longer contracts in place to enable investment, in terms of both financial and resource. His personal recommendation was that the mindset of the customer needs to
change from seeing 3PLs as outsourced activity to insourced skills and expertise.
More than half (61%) of delegates agreed that the customer is the biggest blocker to 3PLs delivering more, over skills and capability (16%) and willingness (23%).
While 44% believed highly transactional procurement strategies were the main factor preventing 3PLs from offering more, followed by short contract lengths (43%) and the 3PL marketing being too specialised (14%).
John Perry, managing director of SCALA, said: "While it's clear from the debate that 3PLs can certainly be delivering more for their customers, the main outcome from the speakers was a greater need for collaboration. Companies and 3PLs need to work together better in order to add value and encourage more effective partnerships. Most 3PLs are keen to add value and the real impetus for this should be coming from the customer."

The debate was based on SCALA's recent Third Party Logistics Report. Based on a major UK survey to ascertain companies' satisfaction rates and areas of concern regarding their third-party logistics providers, the report sets out recommendations for building better business relationships for the future across the supply chain industry.